Why would anyone in their right mind...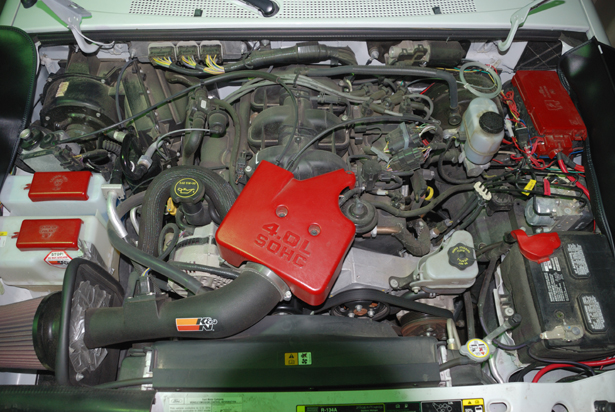 ...take a working truck and...
...start ripping the engine apart? Who ever said I was in my right mind?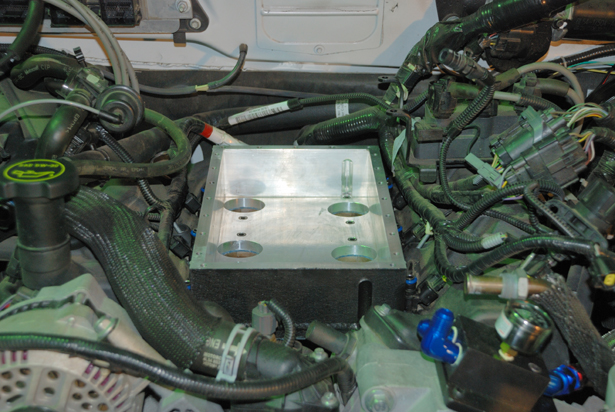 Does the name R.P. Caster ring a bell? (Tuesday)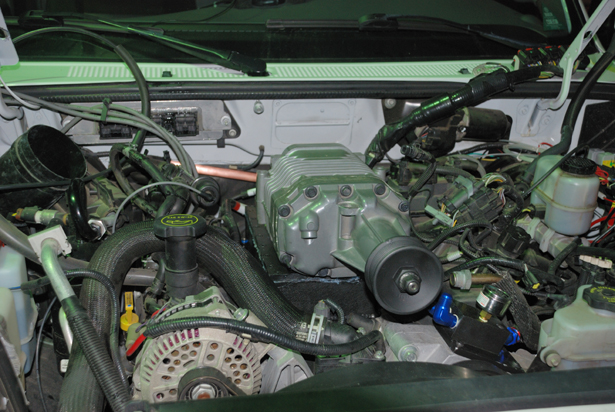 Yeah... I did it! It's quite a project though... (Tuesday)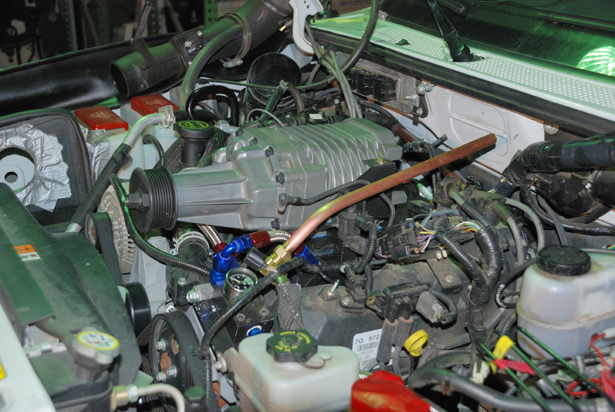 Manifold, M90 and Fuel Rail Kit are all installed. (Wednesday)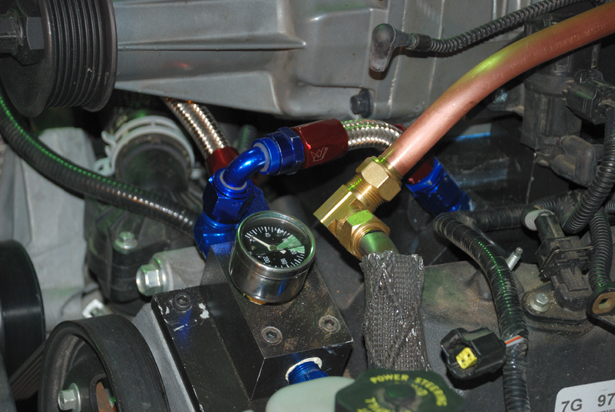 Ron's Fuel Distribution Block and pressure gauge. (Wednesday)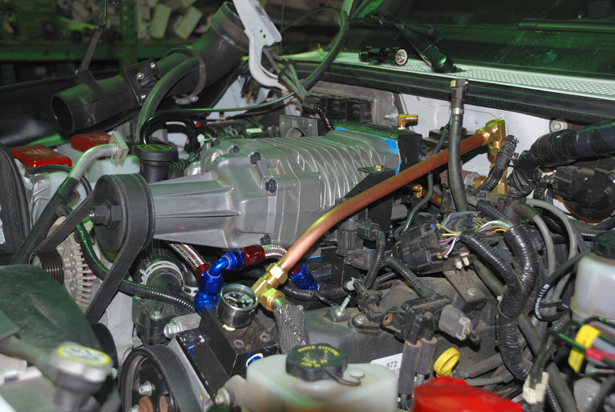 Plenum, EGR Valve and drive belt in place... (Thursday)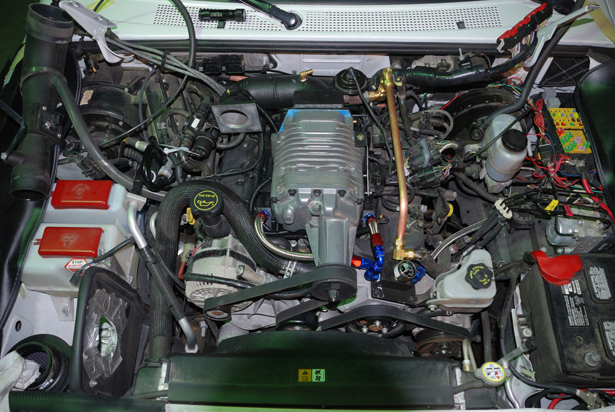 ... startin' to look like "Fire that Muther Up!" Just need a throttle body and intake... (Thursday)
The throttle body on my '07 turned out to be 3.5 inch when all the previous Rangers had 3 inch.
This called for some temporary measures (above), but as you can see below, it's done! (Thursday)
After some creative plumbing, the Cold Air Intake is connected! (Friday)
Parked outside in the Sun for the first time in 4 days... ready for a test drive! (Friday)
I then modified the stock air box and created a true "Cold Air Intake"... see text in photo. (Sunday)
Ron Caster had me change my plugs to one range colder and gap them down to .040 to prevent "blow-out"... that's done. Dennis Gomes of Tasca Racing in Cranston, RI, a local SCT Tuner and Mustang specialist, created a new base "SC" tune for me. Dennis put it on Tasca Racing's Dyno Dynamics dyno and checked his tuning there. Two minor adjustments and new dyno pulls and he has the thing at least knowing it's got a supercharger.
Meanwhile, I've been working with Fred from Rogue Performance on a new set of SC tunes via datalog and email. Fred's been working with Ron Caster to develop a set of standard SC tunes for Ron's clients. I've installed a new 2.9" pulley for a little more boost... details and pictures below.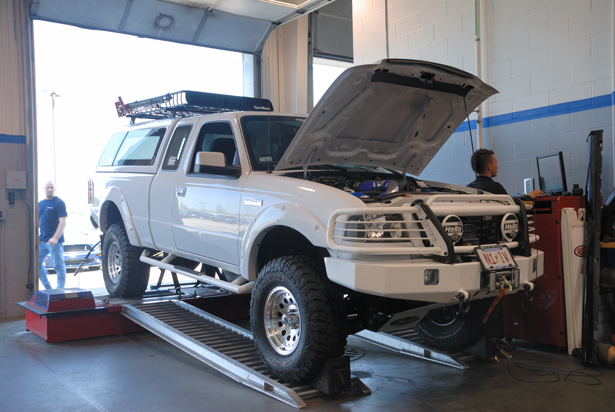 My Ranger on Tasca Ford's Dynojet at their racing headquarters!
Yep, that's one of John Force's funny car bodies... Tasca sponsors him.
Shuttin' down after the final pull... 189.8HP/221ft lbs with 33" mud terrain tires, mind you!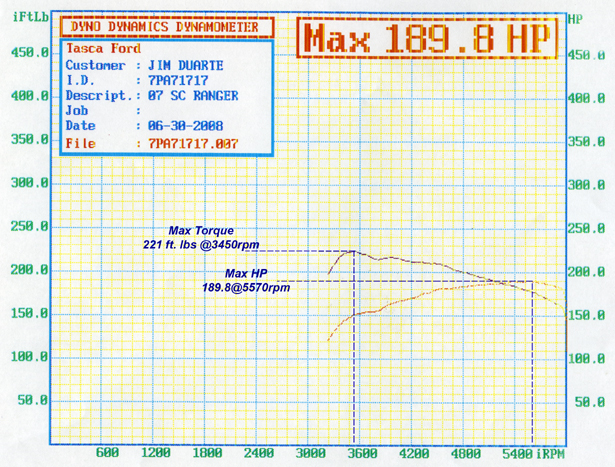 Chart from 3rd pull of the day... Dennis had to remind me that the 33" Muds limit horsepower!
A
Now, what we get is never enough, right? I ordered and installed a 2.9" pulley for the M90 which increases the boost from 4 lbs to 6 lbs. To be sure I didn't have any heat/piston problems, I also purchased and installed a Snow's Performance Water/Methanol Injection system and wired it to come on at 4 lbs of boost. I could feel a definite improvement so I thought another Dyno Run would be in order. Oh yeah... significant improvement. Check the new numbers on the chart below. I'm happy (for now, anyway)!
A sincere "Thanks" to Ron Caster for all his help and assistance! I'd also like to thank my Boss, Dave Reis for letting me use the shop for four days, Adam Gracia and Mark Vasconcellas for their advice and auto racing expertise! Last but not least, my wife Patti for putting up with me and this never ending project of mine!