Bone Stock, just the way I bought it off the lot (above) and...
...lifted 2 inches, new tires and SportRacks' roof basket installed...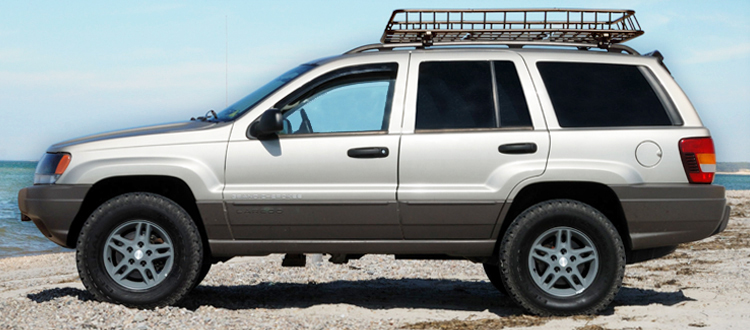 I had the stock Jeep alloy wheels blasted and powder coated slate gray...
...with new brushed aluminum center caps and black lugs!
---
Minor Lift and Track changes... necessary!
A coworker of mine had a friend that had a 2004 Grand Cherokee and had purchased a DayStar 2" lift kit but after sitting on it for a while, decided (with some coaxing from his buddies) to go higher. He never installed the DayStar Kit... I got it for a song still in the box! He also has a set of Spidertrax 1.25" wheel spacers... I bought those too. Thanks Gary...
I decided to tackle the job today (April 16, 2011) - the weather was going downhill so there wasn't much else to do and it was going to stay that way until late morning on Sunday. I cleared out the garage, backed the "WJ" in and got started on the front. For an Old Fart like me, I had no idea what to expect for "time to install" - nothing ever goes quite right, you know? I jacked up the front and read the instructions. I had just noticed that Harbor Freight Tools had their Coil Spring Compressors on Sale last week so I bought a set knowing this was coming. I could NOT have done the job without them for sure! Everything was going well until it came to disconnecting the shocks.
JeepForum.com sticker... another shameless plug!
I had sprayed everything involved with WD40 a few times before I got going. So what - the lower shock bolts snapped before I even got a quarter turn on them. Not a problem - I have a good assortment of bolts. I removed the other side's shock without incident and disconnected the Sway Bar links on both sides. The axle dropped but never really gave me the play I needed to remove the springs. I had to resort to the spring compressors to get them off, put the spacers in and re-install the springs. I reconnected the Sway Bar Links and the shocks and then re-installed the wheels. I let the jack down and drove it out - Boy, 2" doesn't sound like a lot but with only the front done, I couldn't see over the nose driving it down the driveway.
I turned it around and drove it into the garage this time to get going on the rear. I jacked it up just like the front and installed the jackstands. I removed the wheels, disconnected the shocks and track bar links and dropped the axle down. There was considerably more play in the back but I still couldn't get the springs out - MUST BE OLD AGE! The newly purchased spring compressors saved the day again! I removed and replaced both rear springs in less than an hour "???" F'n Magic, I guess! I reconnected the shocks and sway bar links and then replaced the wheels. I dropped the jack down, cleaned up my tools, put everything away and it was DARK! It sucks to get really good pictures in the dark so I decided to wait until we got back to the beach on Monday, Patriot's Day. Those are what you'll see on this page.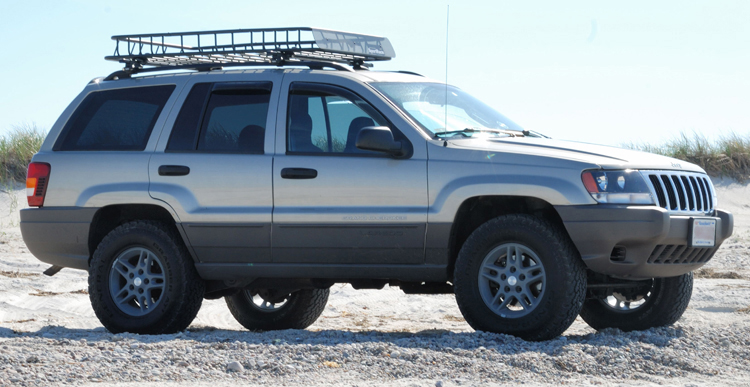 Right at home on the Beach...
All in all, I really liked the DayStar Kit - with the new tires, everything came together nicely. I only wish that I had my new Bilstein 5100 shocks on site while doing the lift. It would have been much easier to install them at the same time as one end of each shock was already being disconnected - Oh well. For new shoes, I sent my stock alloy wheels to Bell's Powder Coating in North Attleboro, MA to have them blasted and powder coated "Slate Gray" with an additional coat of "Matte Clear" for extra salt protection. I also ordered a new set of brushed aluminum Jeep center caps.

Once finished, I had Town Fair Tire in Raynham, MA install a new set of 265/70R16 General Grabber AT2's on the coated stock wheels. They installed a fresh set of valve stems, balanced the wheels and did a full front end alignment. The best part of the project - the lift kit took only 5 hours start to finish!

Not bad for an OLD FART! Hope you like the write up and I'll update the pictures as soon as any more changes start to happen. Enjoy...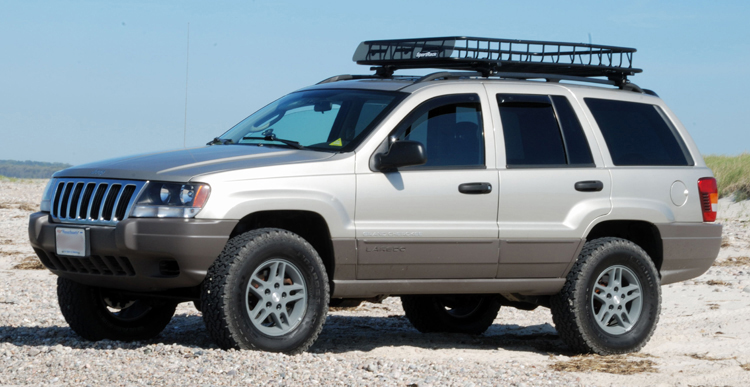 She's got a lot more articulation than my truck, not that it really shows here.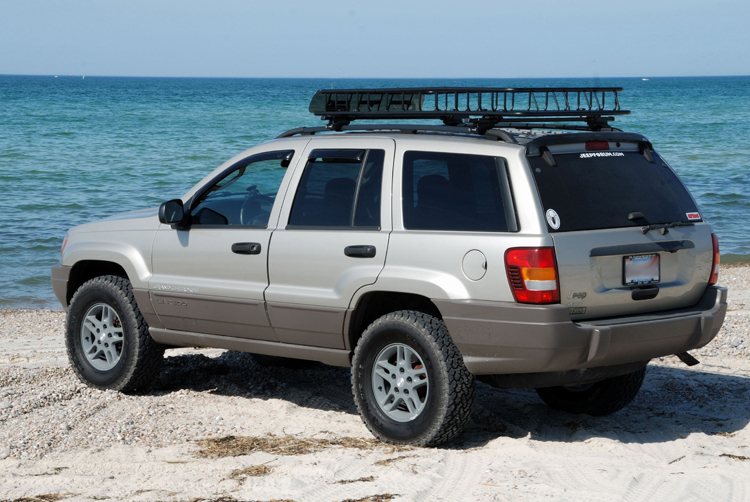 Should be a big help this summer shuttling guests back and forth to the camper!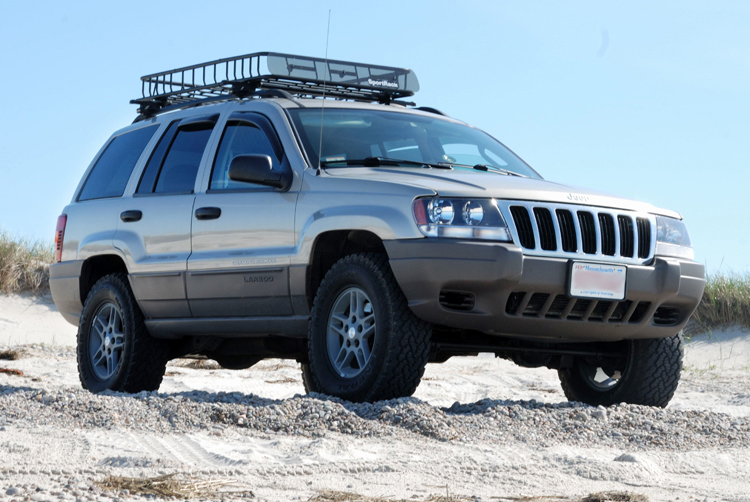 Much nicer stance with the Daystar Spacers and the new shoes...
Wide Track nose view with a little trim - modified front bumper!
I'd been reading and trying to figure out how to get a relatively good looking front bumper without breaking the bank. The aftermarket bumper prices aren't as bad as some of the units available for full size trucks but still command some pretty serious coin. I have fabricated a couple of bumpers in my time and have the welding and fabrication experience as well as the equipment to do it. However, I am not getting any younger and my time is at a premium lately. What does that leave for decent choices?
In steps "JerzeyBoyWJ" on JeepForum.com with his 2003 lifted WJ. He had a very nice idea and shared it with everyone. I tried it - it cost me absolutely nothing. It looks more aggressive than stock and really opens up my approach angle! Now I can play with a simple brush guard/light bar design that enhances the cuts I made here. Stay tuned...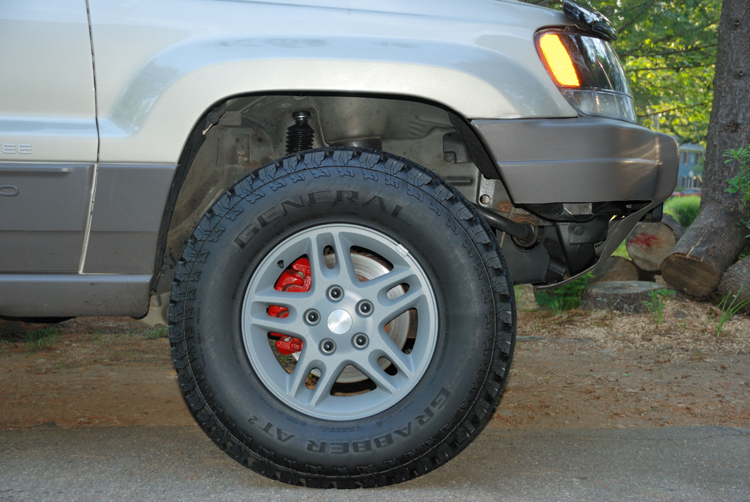 With a simple trim, I gained about 9" of approach angle!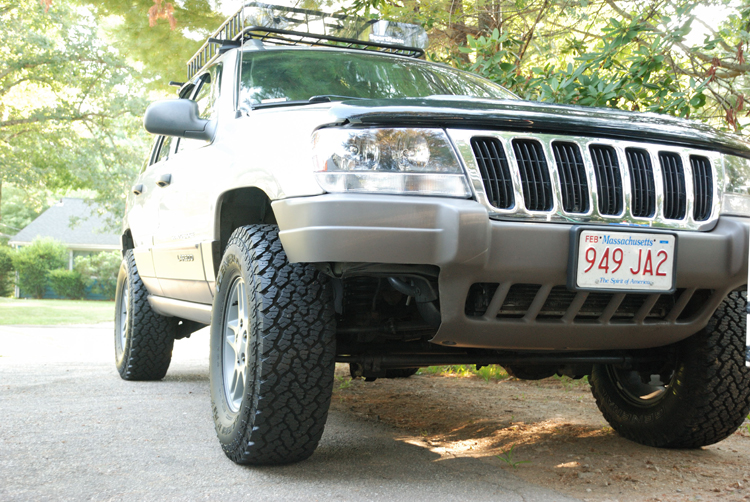 A better view of the "cornerotomy"... now, a light bar?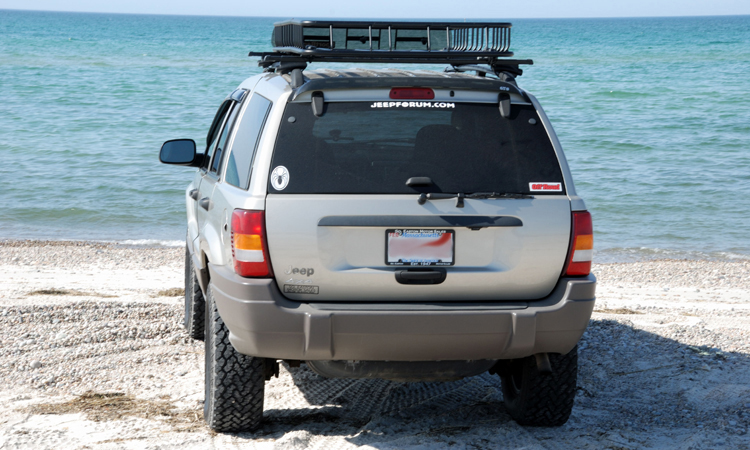 Rear Shot Lookin' at the Surf...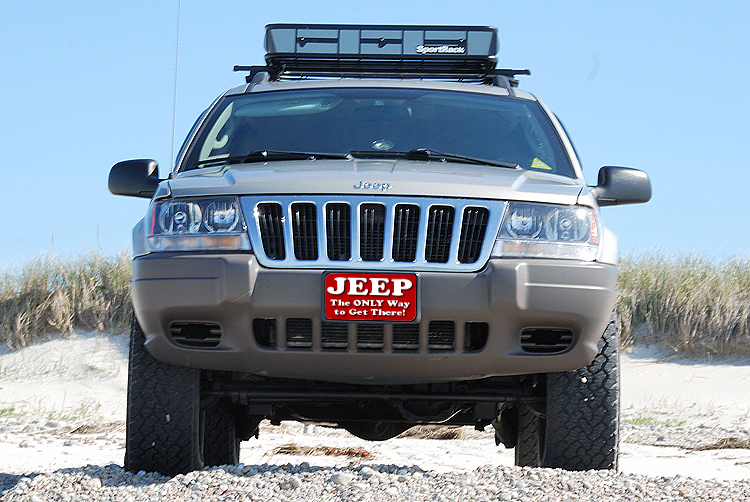 Plover's Eye View! (Sorry, local humor)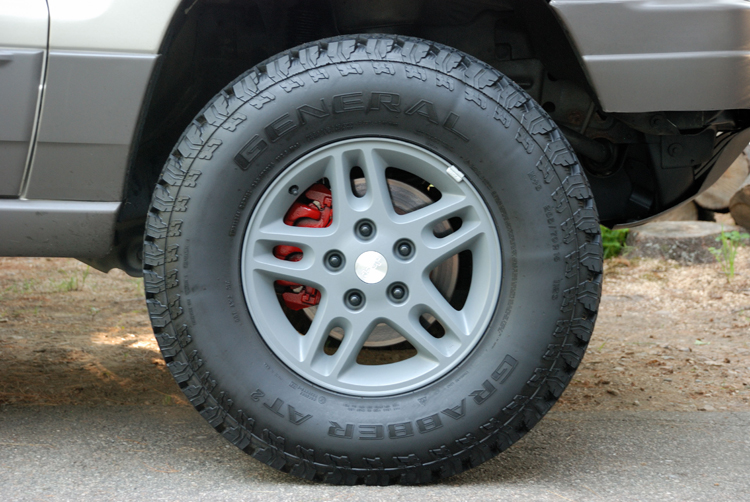 The NEW SHOES... great looking tires on the powder coated stock wheels!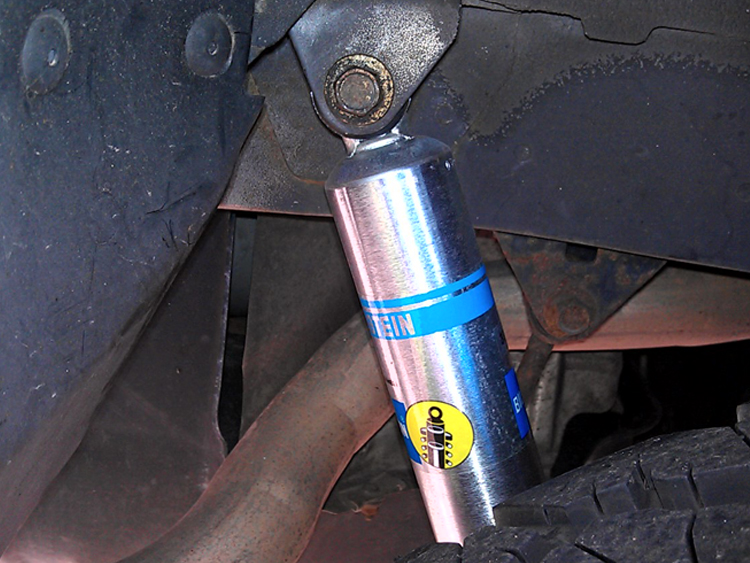 New Bilstein 5100s on all four corners!